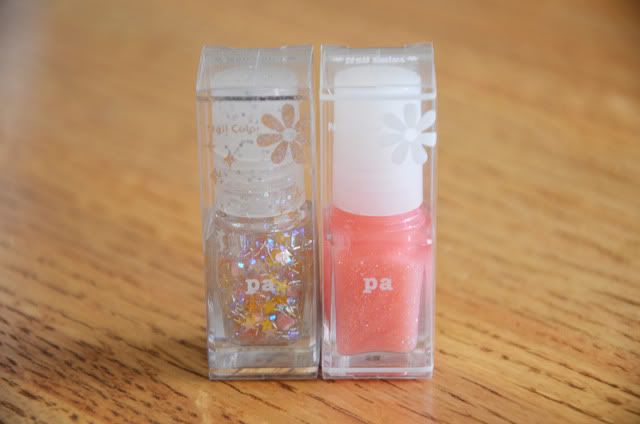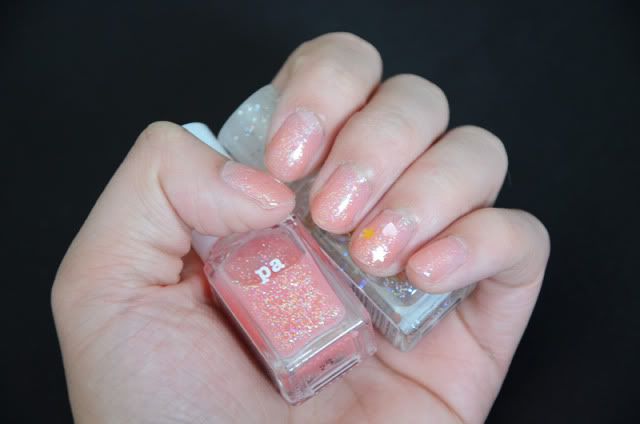 First of all, I just have to say I am in love with my nails right now! I feel like a freaking princess ♕ The finish is so squishy, shiny, and sparkly, and they finally satisfy the prolonged desire I had for a jelly nail polish!
But -- what you see is with
five
coats. I was ready to put on something sheer and on the natural side (after suffocating my poor nails with a combo of 3 polishes and a total of 6-7 layers), but when I applied the first coat, I was so disappointed -- there was no pink at all! I know jelly polishes are supposed to be sheer since that's what gives the jelliness, but I feel like it could have been a bittt more opaque. I kept on layering on more and more and finally the pink showed through. All in all, I love the end result, but I think next time I'll put on a light nude pink to make it a little more milky like how it looks in the bottle.
As for the glitter top coat (which contains yellow stars, white stars, pink hearts, some blue/purple microglitter, and silver string gitter), you can see how sparse it already looks in the bottle. Good thing I already had decided beforehand that I was only going to put it on two nails... it took forever to pick out the hearts, which I wanted the most! The combination of the glitters is very cute though, and I think it added a nice subtle finishing touch to my nails :)
I bought the pink PA polish for like $4.39 and the glitter for $4.99 which is pretty expensive considering how tiny the bottles are, but they are from Japan and pretty hard to get a hold of in the US. I got them at a Japanese store in a local mall, and it actually has quite a large selection of PA polish plus other things. I was only really interested in these two (thank god lol) since you don't really find these types of nail polish in non-Asian stores.